Not too well for me unfortunately. Have had some up's and down's and was down around $7,000 (not much at all for the games I've been playing), played event 2 yesterday and lasted a whopping 40 minutes after losing over half my chips before seeing a flop. Went car shopping to relax and unwind in the afternoon and almost walked out with a new Benz but the guy wouldn't budge on the interest rate (want to finance a bit of it to build credit), the price of the car or giving me free window tinting. Since I have to wait to pick it up until I get my license in the mail anyway, thought I'd shop around.
So anyway, felt ready for some poker and headed over to Bellagio and the lists for all of the NL games were 40+ players long. Horrible. After about 20 minutes of waiting they opened a 50-100 NL game. I didn't recognize any of the players so decided to give it a shot. A loss wouldn't hinder my ability to play the games I want or this trip or anything, so was worth a shot. I've done well in 25-50 so what the hell.
Down two buy ins. Also known as $20,000.
Ouch.
As I said, doesn't change anything, but it sucks. Not going to play any poker today and possibly not tomorrow either. I need to fully let that out of my system and come to terms with where my bankroll is now. I think my poker skills are above average, but not great. What has made me successful is my approach to the game I think, and I have to have the right approach here.
Once I do a tally I'll know my roll, and thats what I now have to work with. Go back to 10/20 and 25/50 and next time I'm up huge maybe I'll take another stab ;)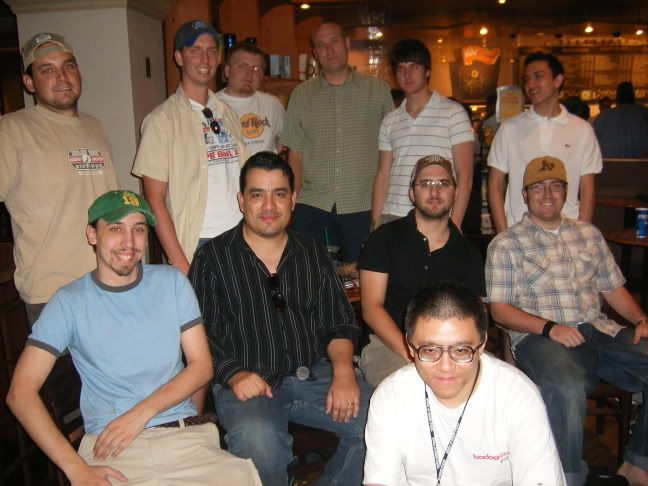 Met up with a bunch of 2+2ers before the event yesterday, great guys all around. I've yet to meet a 2+2er who isn't a first rate human being, I swear that is the top 1%. An honor to be a part of that community. They may not look like much, but thats I'm sure a higher average (self-made) net worth of that age group than you will find anywhere in the world.
Thanks for reading, now get back to the tables!
Wild Bill